La tarde de este domingo 17 de septiembre desde el Microsoft Theatre en la ciudad de Los Ángeles, California, se celebrará la edición 69 de los Premios Emmy, galardón que la Academia de la Televisión entrega anualmente en reconocimiento a lo mejor de la industria televisiva en Estados Unidos.
En Cine3 podrás conocer los pormenores de todos los ganadores con nuestra cobertura especial en vivo. No olvides refrescar la página para enterarte minuto a minuto.
Westworld, el drama de ciencia ficción de HBO y Saturday Night Live de NBC, lideran las nominaciones con 22 menciones para cada uno. La serie sensación de Netflix, Stranger Things, le sigue con 19 y Feud: Bette and Joan de FX con 18.
La ausencia de Game of Thrones como contendiente, dejó un gran espacio para que este día sea una serie ganadora nueva la coronada como la mejor en el género de drama. Las probabilidades se inclinan hacia una recién llegada, ya que la categoría la conforman This Is Us, Stranger Things, The Handmaid's Tale, The Crown y Westworld, junto a Better Call Saul y House of Cards, dos shows que repiten nominación.
Por otro lado, la comedia la conforman Atlanta, la única serie nueva en la categoría a mejor serie comedia, y seis nominados que repiten: Black-ish, Master of None, Modern Family, Silicon Valley, Unbreakable Kimmy Schmidt y Veep.
Conocidos entre los críticos y seguidores como el Óscar de la TV, los Emmy contarán con el comediante Stephen Colbert como su anfitrión. La ceremonia será transmitida en vivo a través de CBS en Estados Unidos y Canal TNT en Latinoamérica.
Damos inicio a la edición 69 recordándoles a todos los nominados en el siguiente listado, en el que iremos destacando a los ganadores, conforme estos se vayan conociendo.
OJO: Incluimos a los ganadores del Creative Arts Emmy Awards, entregados en una ceremonia no televisada el pasado fin de semana en Los Ángeles.
¡Comenzamos!
MEJOR SERIE DE DRAMA
Better Call Saul
House of Cards
The Handmaid's Tale - GANADORA
The Crown
This Is Us
Stranger Things
Westworld
MEJOR SERIE DE COMEDIA
Modern Family
Silicon Valley
Unbreakable Kimmy Schmidt
Veep - GANADORA
Master of None
Black-ish
Atlanta
MEJOR SERIE LIMITADA
Big Little Lies - GANADORA
Fargo
Feud: Bette & Joan
The Night Of
Genius
MEJOR PELÍCULA PARA TELEVISIÓN
Black Mirror: San Junipero - GANADORA
Dolly Parton's Christmas of Many Colors: Circle of Love
The Immortal Life of Henrietta Lacks
Sherlock: The Lying Detective
The Wizard of Lies
MEJOR ACTRIZ PROTAGÓNICA EN SERIE DE DRAMA
Claire Foy, The Crown
Viola Davis, How to Get Away With Murder
Elisabeth Moss, The Handmaid's Tale - GANADORA
Keri Russell, The Americans
Evan Rachel Wood, Westworld
Robin Wright, House of Cards
MEJOR ACTOR PROTAGÓNICO EN SERIE DE DRAMA
Kevin Spacey, House of Cards
Bob Odenkirk, Better Call Saul
Liev Schreiber, Ray Donovan
Matthew Rhys, The Americans
Sterling K. Brown, This Is Us - GANADOR
Milo Ventimiglia, This Is Us
Anthony Hopkins, Westworld
MEJOR ACTRIZ EN SERIE LIMITADA O PELÍCULA PARA TELEVISIÓN
Carrie Coon, Fargo
Felicity Huffman, American Crime
Nicole Kidman, Big Little Lies - GANADORA
Reese Witherspoon, Big Little Lies
Jessica Lange, Feud: Bette and Joan
Susan Sarandon, Feud: Bette and Joan
MEJOR ACTOR EN SERIE LIMITADA O PELÍCULA PARA TELEVISIÓN
Riz Ahmed, The Night Of - GANADOR
Robert De Niro, The Wizard of Lies
Ewan McGregor, Fargo
Geoffrey Rush, Genius
John Turturro, The Night Of
Benedict Cumberbatch, Sherlock
MEJOR ACTRIZ PROTAGÓNICA EN SERIE DE COMEDIA
Julia Louis-Dreyfus, Veep - GANADORA
Lily Tomlin, Grace and Frankie
Jane Fonda, Grace and Frankie
Ellie Kemper, Unbreakable Kimmy Schmidt
Tracee Ellis Ross, Black-ish
Allison Janney, Mom
Pamela Adlon, Better Things
MEJOR ACTOR PROTAGÓNICO EN SERIE DE COMEDIA
Jeffrey Tambor, Transparent
William H. Macy, Shameless
Anthony Anderson, Black-ish
Aziz Ansari, Master of None
Donald Glover, Atlanta - GANADOR
Zach Galifianakis, Baskets
MEJOR ACTOR DE REPARTO EN SERIE DE COMEDIA
Ty Burrell, Modern Family
Matt Walsh, Veep
Tony Hale, Veep
Louie Anderson, Baskets
Alec Baldwin, Saturday Night Live - GANADOR
Tituss Burgess, Unbreakable Kimmy Schmidt
MEJOR ACTRIZ DE REPARTO EN SERIE DE COMEDIA
Leslie Jones, Saturday Night Live
Vanessa Bayer, Saturday Night Live
Judith Light, Transparent
Kathryn Hahn, Transparent
Anna Chlumsky, Veep
Kate McKinnon, Saturday Night Live - GANADORA
MEJOR ACTOR DE REPARTO EN SERIE DE DRAMA
Jonathan Banks, Better Call Saul
Ed Harris, Westworld
Michael Kelly, House of Cards
Ron Cephas Jones, This Is Us
John Lithgow, The Crown - GANADOR
Jeffrey Wright, Westworld
Michael McKean, Better Call Saul
David Harbour - Stranger Things
MEJOR ACTRIZ DE REPARTO EN SERIE DE DRAMA
Millie Bobby Brown, Stranger Things
Chrissy Metz, This Is Us
Thandie Newton, Westworld
Uzo Aduba, Orange Is the New Black
Ann Dowd, The Handmaid's Tale - GANADORA
Samira Wiley, The Handmaid's Tale
MEJOR ACTOR DE REPARTO EN SERIE LIMITADA O PELÍCULA PARA TELEVISIÓN
Bill Camp, The Night Of
Michael Kenneth Williams, The Night Of
Alfred Molina, Feud: Bette and Joan
Alexander Skarsgard, Big Little Lies - GANADOR
David Thewlis, Fargo
Stanley Tucci, Feud: Bette and Joan
MEJOR ACTRIZ DE REPARTO EN SERIE LIMITADA O PELÍCULA PARA TELEVISIÓN
Judy Davis, Feud: Bette and Joan
Laura Dern, Big Little Lies - GANADORA
Regina King, American Crime
Shailene Woodley, Big Little Lies
Michelle Pfeiffer, The Wizard of Lies
Jackie Hoffman, Feud: Bette and Joan
MEJOR ACTOR INVITADO EN SERIE DE DRAMA
Gerald McRaney, This Is Us - GANADOR
Ben Mendelsohn, Bloodline
BD Wong, Mr. Robot
Denis O'Hare, This Is Us
Brian Tyree Henry, This Is Us
Hank Azaria, Ray Donovan
MEJOR ACTRIZ INVITADA EN SERIE DE DRAMA
Alexis Bledel, The Handmaid's Tale - GANADORA
Shannon Purser, Stranger Things
Laverne Cox, Orange Is the New Black
Ann Dowd, The Leftovers
Cicely Tyson, How to Get Away With Murder
Alison Wright, The Americans
MEJOR ACTOR INVITADO EN SERIE DE COMEDIA
Matthew Rhys, Girls
Riz Ahmed, Girls 
Dave Chappelle, Saturday Night Live - GANADOR
Lin-Manuel Miranda, Saturday Night Live
Tom Hanks, Saturday Night Live
Hugh Laurie, Veep
MEJOR ACTRIZ INVITADA EN SERIE DE COMEDIA
Wanda Sykes, Black-ish
Carrie Fisher, Catastrophe
Becky Ann Baker, Girls
Melissa McCarthy, Saturday Night Live - GANADORA
Kristen Wiig, Saturday Night Live
Angela Bassett, Master of None
MEJOR PROGRAMA SKETCH DE VARIEDAD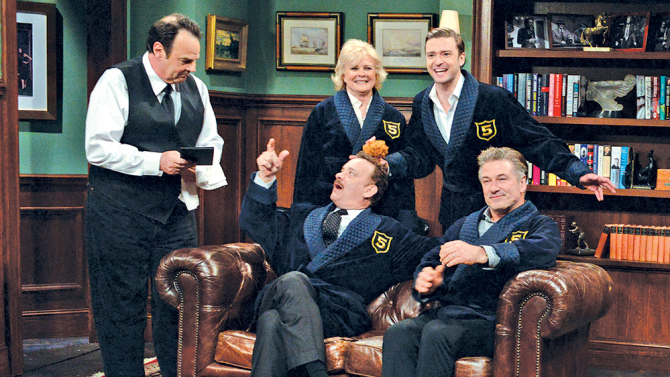 Billy on the Street
Documentary Now!
Drunk History
Portlandia
Saturday Night Live - GANADOR
Tracey Ullman's Show
MEJOR PROGRAMA VARIETY TALK
Full Frontal With Samantha Bee
Jimmy Kimmel Live!
Last Week Tonight With John Oliver - GANADOR
The Late, Late Show With James Corden
The Late Show With Stephen Colbert
Real Time With Bill Maher
MEJOR PROGRAMA REALITY DE COMPETENCIA
The Voice - GANADOR
Top Chef
The Amazing Race
Project Runway
American Ninja Warrior
RuPaul's Drag Race
MEJOR ANFITRIÓN DE REALITY O PROGRAMA REALITY DE COMPETENCIA
Heidi Klum y Tim Gunn, Project Runway
Alec Baldwin, Match Game
Gordon Ramsay, MasterChef Junior
W. Kamau Bell, United Shades of America With W. Kamau Bell
RuPaul Charles, RuPaul's Drag Race - GANADOR
Martha Stewart y Snoop Dogg, Martha and Snoop's Potluck Dinner Party
MEJOR DOCUMENTAL O ESPECIAL DE NO FICCIÓN
13th - GANADOR
Amanda Knox
The Beatles: Eight Days a Week – The Touring Years
A House Divided
L.A. Burning: The Riots 25 Years Later