Luego de que organizaciones como New York Film Critics Circle, los AFI Awards, Los Angeles Film Critics Association y la National Board of Review, anunciaran a sus respectivos ganadores, la tarde de este domingo 7 de enero, es turno de que la Asociación de la Prensa Extranjera en Hollywood (HFPA; por sus siglas en inglés), haga lo propio, entregando los Premios Globo de Oro a lo mejor del cine y la televisión de 2017.
El pasado mes de diciembre se dieron a conocer las nominaciones correspondientes a la edición 75 de los Golden Globe Awards, en la que The Shape of Water del mexicano Guillermo del Toro, resultó la más nominada en el rubro de cine con 7 menciones, incluyendo mejor película de drama, director y guion original. Por el lado de la televisión, la sensación de HBO, Big Little Lies, se llevó dicho honor con 6 nominaciones.
Los #GoldenGlobes honrarán a la icónica Oprah Winfrey, con el Cecil B. DeMille Lifetime Achievement Award.
La ceremonia, que será conducida por Seth Meyers, será transmitida en vivo a través de NBC para Estados Unidos, mientras que en Latinoamérica se podrán disfrutar a través de Canal TNT. La alfombra roja dará inicio a las 18:00 hrs (centro de México).
Se anticipa que los Golden Globes den mucho de qué hablar, especialmente por la polémica que envuelve a la industria Hollywoodense, a partir de las piezas de investigación publicadas por el New York Times y el New Yorker, sobre el antiguo magnate Harvey Weinstein, destapando la cultura de acoso y abuso sexual en la industria cinematográfica y televisiva, más grande del mundo. Como parte de la respuesta hacia el escándalo, más de 300 actrices (y sumando) fundaron y lanzaron la iniciativa Time's Up, contra el acoso sexual. La campaña incluye un llamado a que las mujeres vistan de negro en los Globos de Oro, como signo de solidaridad con las víctimas.
Además, las actrices se harán acompañar a los galardones por activistas que forman parte de organizaciones que luchan por la equidad de derechos entre géneros, como sus invitadas.
A través de Cine3, podrás conocer los pormenores de la ceremonia, incluyendo a todos los ganadores, con nuestra cobertura especial en vivo. Asimismo, recopilaremos posteriormente, toda la estadística, las sorpresas, los ignorados y la trivia, por lo que los invitamos a seguirnos de cerca durante las siguientes horas y días.
Arrancamos recordando a todos los nominados en el siguiente listado, en el que iremos destacando en negrita a los ganadores en tiempo real, conforme estos sean anunciados.
CINE
MEJOR PELÍCULA DRAMA
Call Me by Your Name
Dunkirk
The Post
The Shape of Water
Three Billboards Outside Ebbing, Missouri - GANADORA
MEJOR PELÍCULA MUSICAL O COMEDIA
The Disaster Artist
Get Out
The Greatest Showman
I, Tonya
Lady Bird - GANADORA
MEJOR ACTOR EN PELÍCULA DRAMA
Timothee Chalamet, Call Me by Your Name
Daniel Day-Lewis, Phantom Thread
Tom Hanks, The Post
Gary Oldman, Darkest Hour - GANADOR
Denzel Washington, Roman J. Israel, Esquire
MEJOR ACTRIZ EN PELÍCULA DRAMA
Jessica Chastain, Molly's Game
Sally Hawkins, The Shape of Water
Frances McDormand, Three Billboards Outside Ebbing, Missouri - GANADORA
Meryl Streep, The Post
Michelle Williams, All the Money in the World
MEJOR ACTOR EN PELÍCULA MUSICAL O COMEDIA
Steve Carell, Battle of the Sexes
Ansel Elgort, Baby Driver
James Franco, The Disaster Artist - GANADOR
Hugh Jackman, The Greatest Showman
Daniel Kaluuya, Get Out
MEJOR ACTRIZ EN PELÍCULA MUSICAL O COMEDIA
Judi Dench, Victoria & Abdul
Helen Mirren, The Leisure Seeker
Margot Robbie, I, Tonya
Saoirse Ronan, Lady Bird - GANADORA
Emma Stone, Battle of the Sexes
MEJOR ACTOR DE REPARTO EN CUALQUIER PELÍCULA
Willem Dafoe, The Florida Project
Armie Hammer, Call Me by Your Name
Richard Jenkins, The Shape of Water
Christopher Plummer, All the Money in the World
Sam Rockwell, Three Billboards Outside Ebbing, Missouri - GANADOR
MEJOR ACTRIZ DE REPARTO EN CUALQUIER PELÍCULA
Mary J. Blige, Mudbound
Hong Chau, Downsizing
Allison Janney, I, Tonya - GANADORA
Laurie Metcalf, Lady Bird
Octavia Spencer, The Shape of Water
MEJOR DIRECTOR
Guillermo del Toro, The Shape of Water - GANADOR
Martin McDonagh, Three Billboards Outside Ebbing, Missouri
Christopher Nolan, Dunkirk
Ridley Scott, All the Money in the World
Steven Spielberg, The Post
MEJOR GUION ORIGINAL
Guillermo del Toro and Vanessa Taylor, The Shape of Water
Greta Gerwig, Lady Bird
Liz Hannah and Josh Singer, The Post
Martin McDonagh, Three Billboards Outside Ebbing, Missouri - GANADOR
Aaron Sorkin, Molly's Game
MEJOR CANCIÓN ORIGINAL
Home, Ferdinand
Mighty River, Mudbound
Remember Me, Coco
The Star, The Star
This Is Me, The Greatest Showman - GANADORA
MEJOR BANDA SONORA ORIGINAL
Three Billboards Outside Ebbing, Missouri
The Shape of Water - GANADORA
Phantom Thread"
The Post
Dunkirk
MEJOR PELÍCULA EN LENGUA NO INGLESA
A Fantastic Woman
First They Killed My Father
In the Fade - GANADORA
Loveless
The Square
MEJOR PELÍCULA ANIMADA
The Boss Baby
The Breadwinner
Coco - GANADORA
Ferdinand
Loving Vincent
TELEVISIÓN
MEJOR SERIE DE DRAMA
The Crown (Netflix)
Game of Thrones (HBO)
The Handmaid's Tale (Hulu) - GANADORA
Stranger Things (Netflix)
This Is Us (NBC)
MEJOR SERIE COMEDIA O MUSICAL
Black-ish (ABC)
The Marvelous Mrs. Maisel (Amazon) - GANADORA
Master of None (Netflix)
SMILF (Showtime)
Will & Grace (NBC)
MEJOR ACTOR EN SERIE DE DRAMA
Jason Bateman (Ozark)
Sterling K. Brown (This Is Us) - GANADOR
Freddie Highmore (The Good Doctor)
Bob Odenkirk (Better Call Saul)
Liev Schreiber (Ray Donovan)
MEJOR ACTRIZ EN SERIE DE DRAMA
Caitriona Balfe (Outlander)
Claire Foy (The Crown)
Maggie Gyllenhaal (The Deuce)
Katherine Langford (13 Reasons Why)
Elisabeth Moss (The Handmaid's Tale) - GANADORA
MEJOR ACTOR EN SERIE COMEDIA O MUSICAL
Anthony Anderson (Black-ish)
Aziz Ansari (Master of None) - GANADOR
Kevin Bacon (I Love Dick)
William H. Macy (Shameless)
Eric McCormack (Will & Grace)
MEJOR ACTRIZ EN SERIE COMEDIA O MUSICAL
Pamela Adlon (Better Things)
Alison Brie (GLOW)
Rachel Brosnahan (The Marvelous Mrs. Maisel) - GANADORA
Issa Rae (Insecure)
Frankie Shaw (SMILF)
MEJOR ACTOR EN SERIE LIMITADA O PELÍCULA PARA TELEVISIÓN
Robert De Niro (The Wizard of Lies)
Jude Law (The Young Pope)
Kyle MacLachlan (Twin Peaks)
Ewan McGregor (Fargo) - GANADOR
Geoffrey Rush (Genius)
MEJOR ACTRIZ EN SERIE LIMITADA O PELÍCULA PARA TELEVISIÓN
Jessica Biel (The Sinner)
Nicole Kidman (Big Little Lies) - GANADORA
Jessica Lange (Feud: Bette & Joan)
Susan Sarandon (Feud: Bette & Joan)
Reese Witherspoon (Big Little Lies)
MEJOR ACTOR DE REPARTO EN SERIE, SERIE LIMITADA O PELÍCULA PARA TELEVISIÓN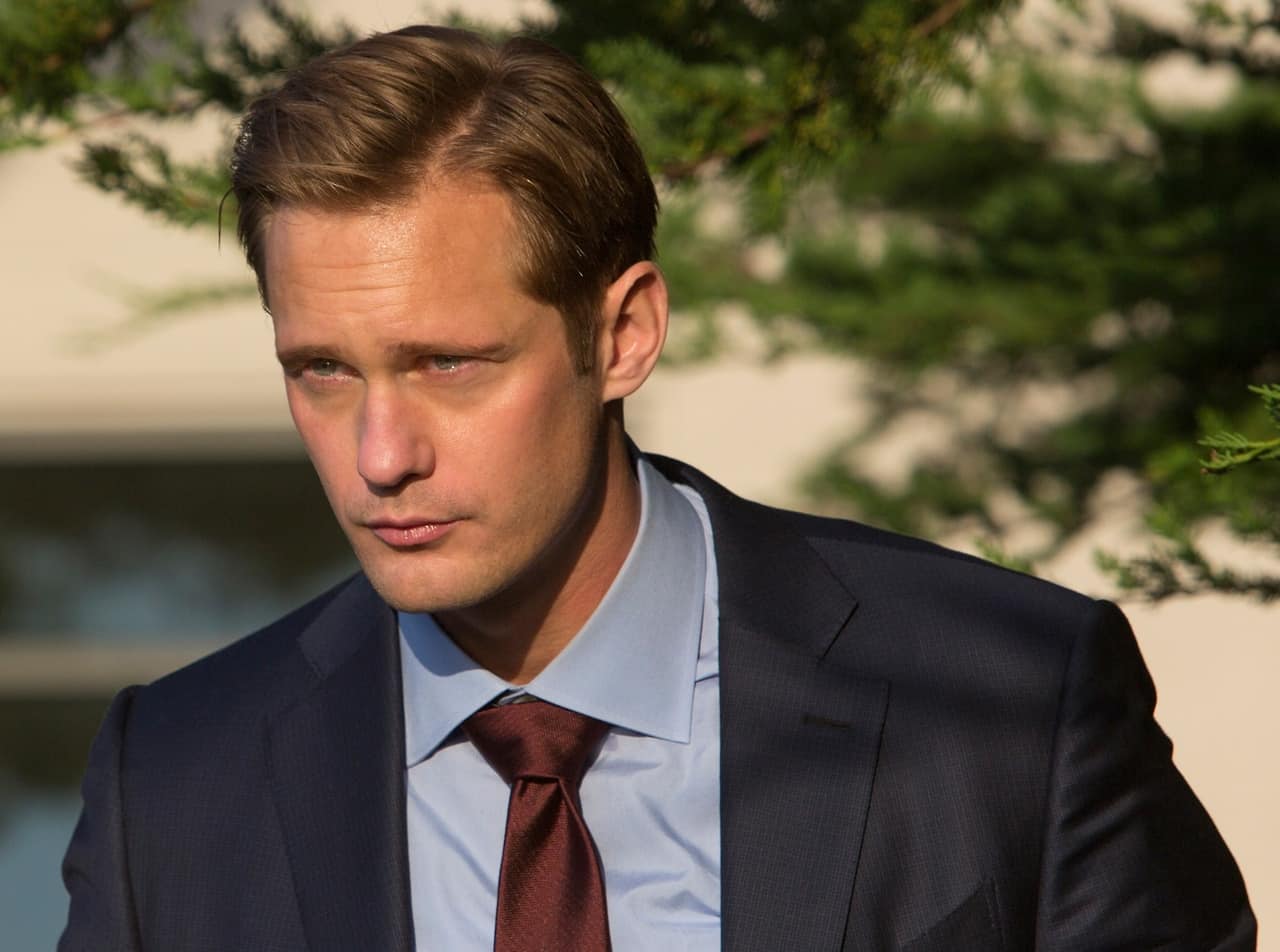 David Harbour (Stranger Things)
Alfred Molina (Feud: Bette & Joan)
Alexander Skarsgard (Big Little Lies) - GANADOR
Christian Slater (Mr. Robot)
David Thewlis (Fargo)
MEJOR ACTRIZ DE REPARTO EN SERIE, SERIE LIMITADA O PELÍCULA PARA TELEVISIÓN
Laura Dern (Big Little Lies) -GANADORA
Ann Dowd (The Handmaid's Tale)
Chrissy Metz (This Is Us)
Michelle Pfeiffer (The Wizard of Lies)
Shailene Woodley (Big Little Lies)
MEJOR SERIE LIMITADA O PELÍCULA HECHA PARA TELEVISIÓN
Big Little Lies - GANADORA
Fargo
Feud: Bette and Joan
Top of the Lake: China Girl
The Sinner